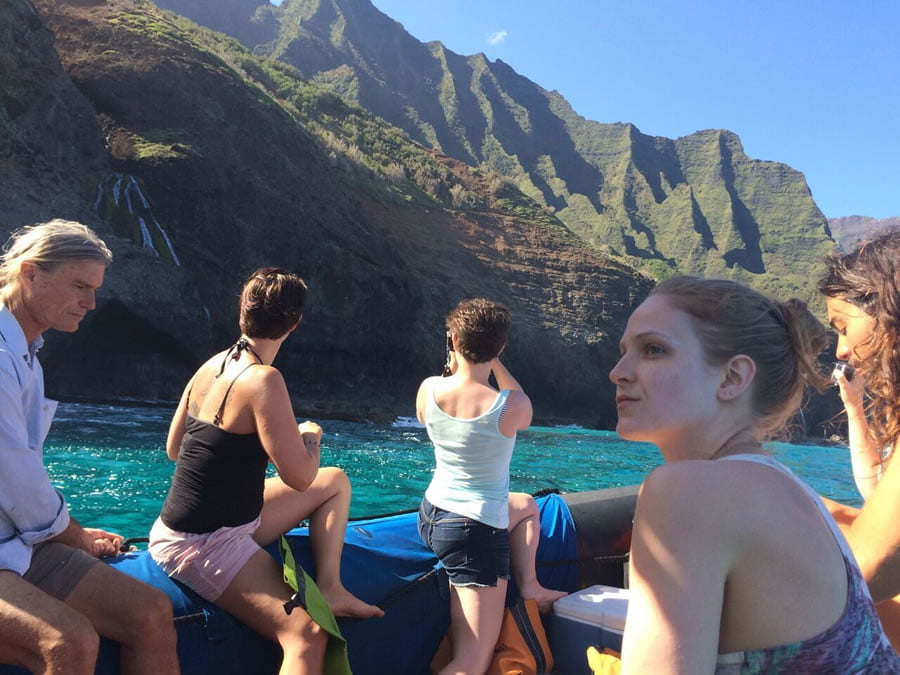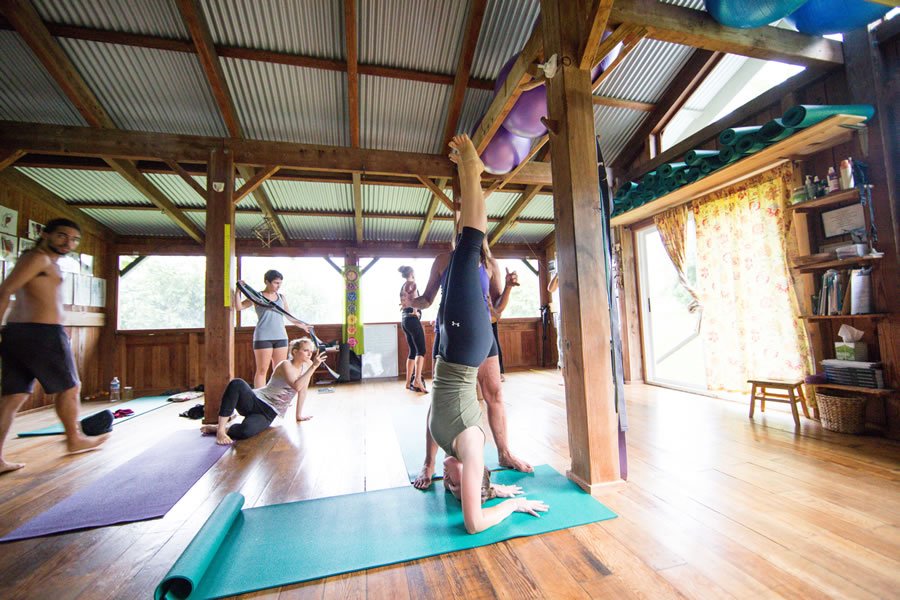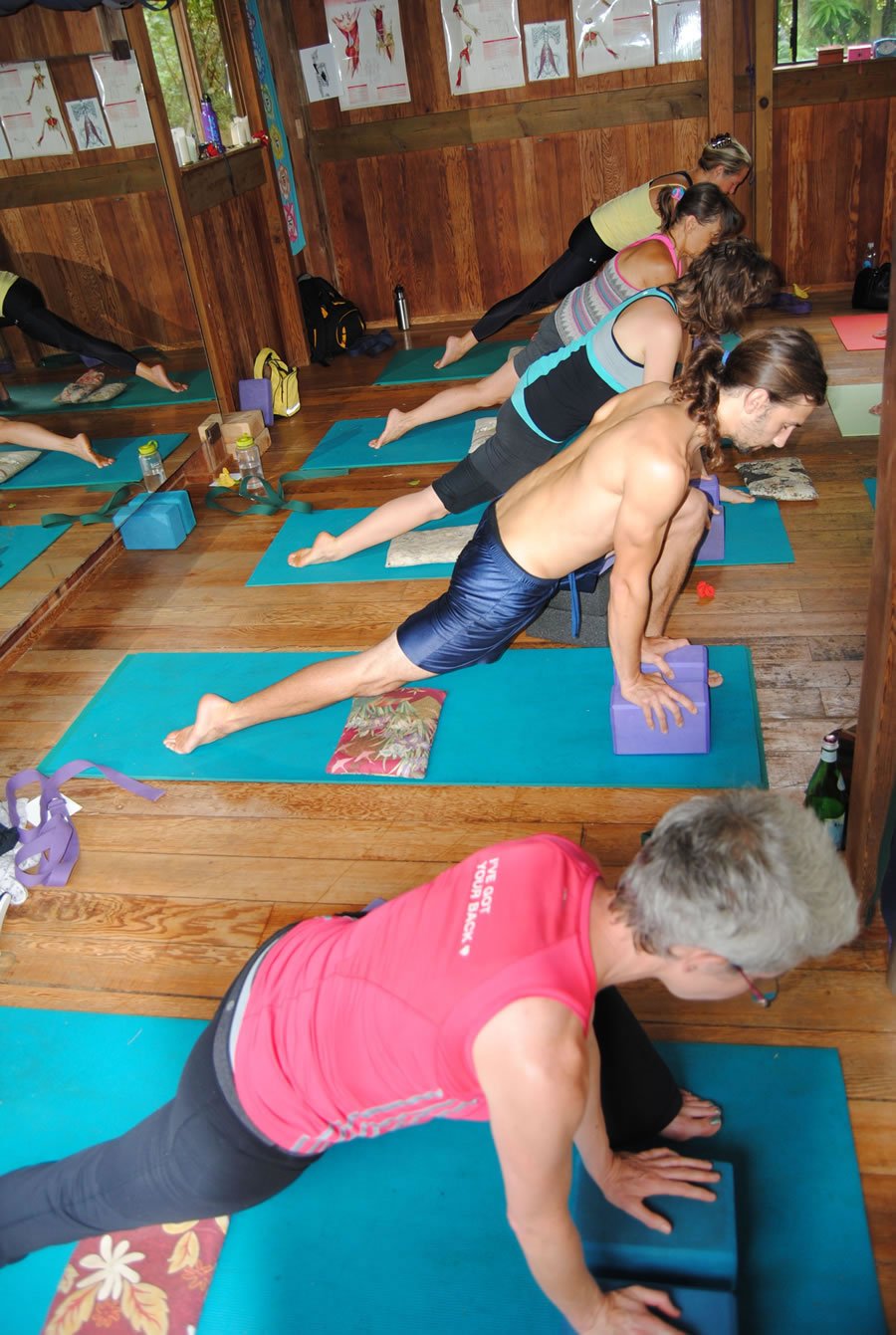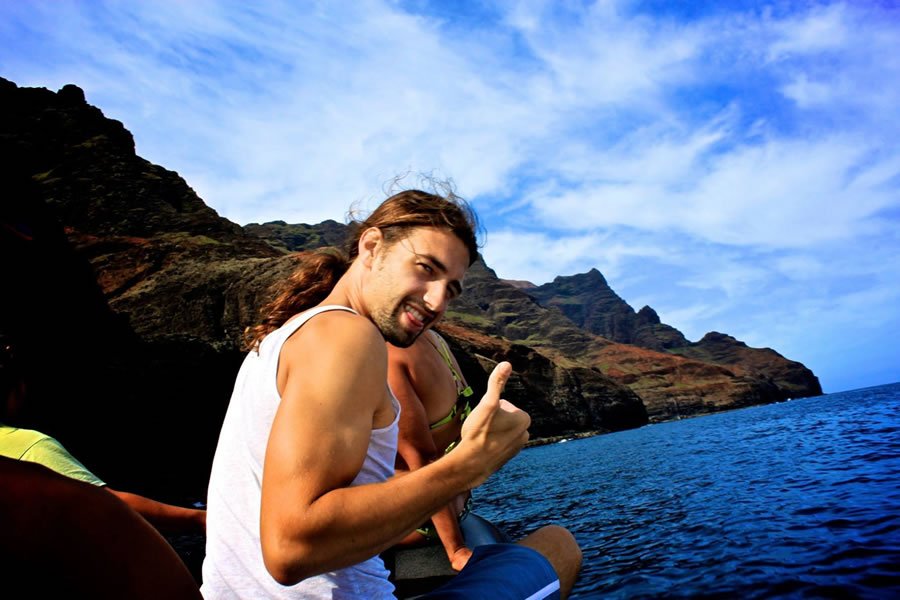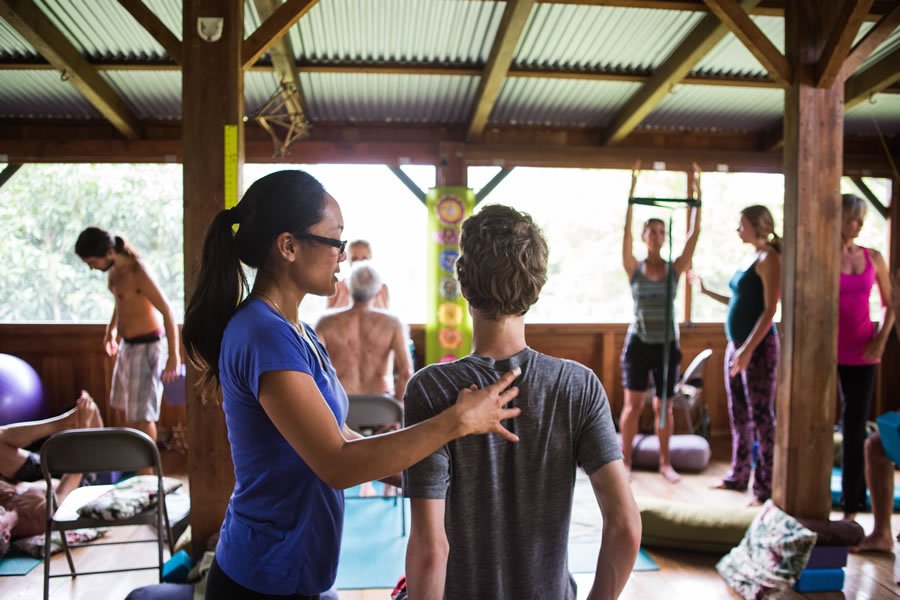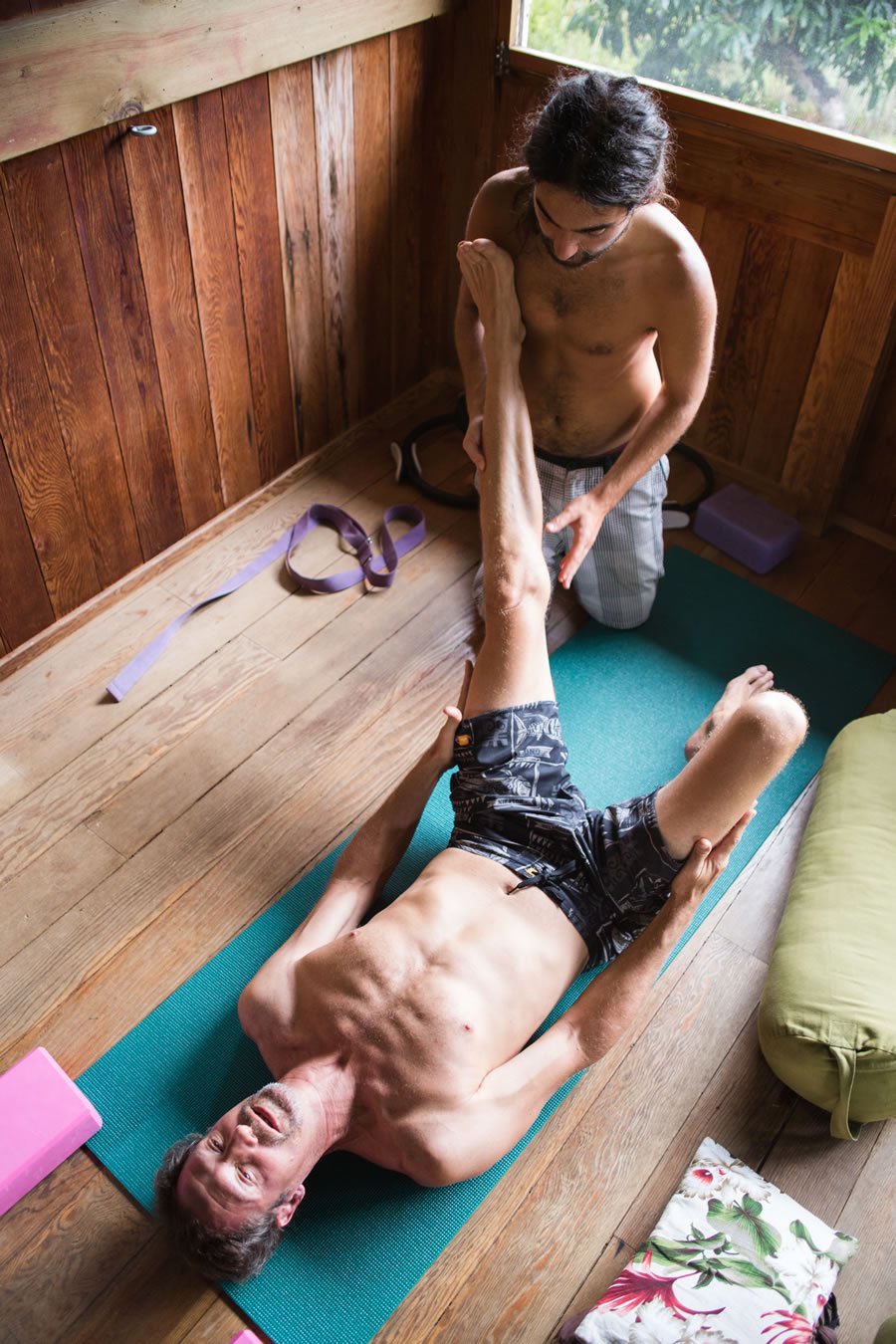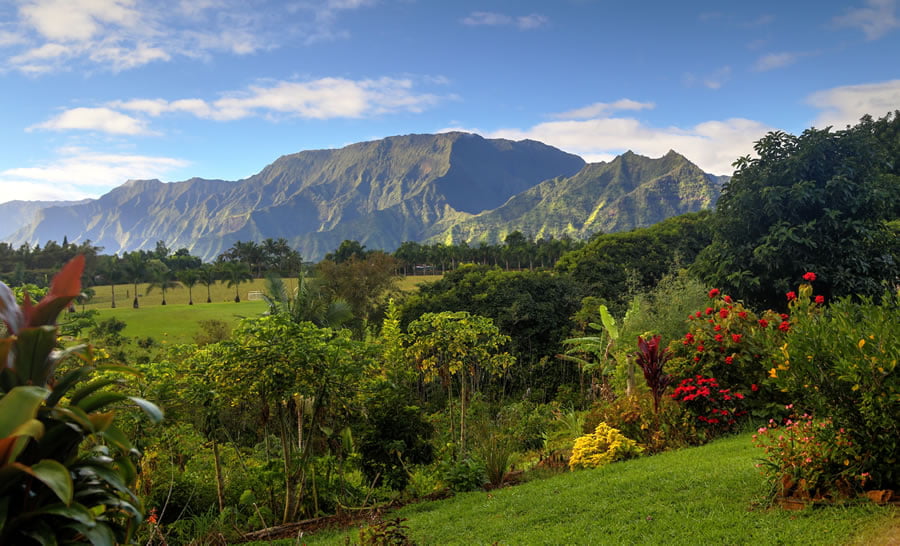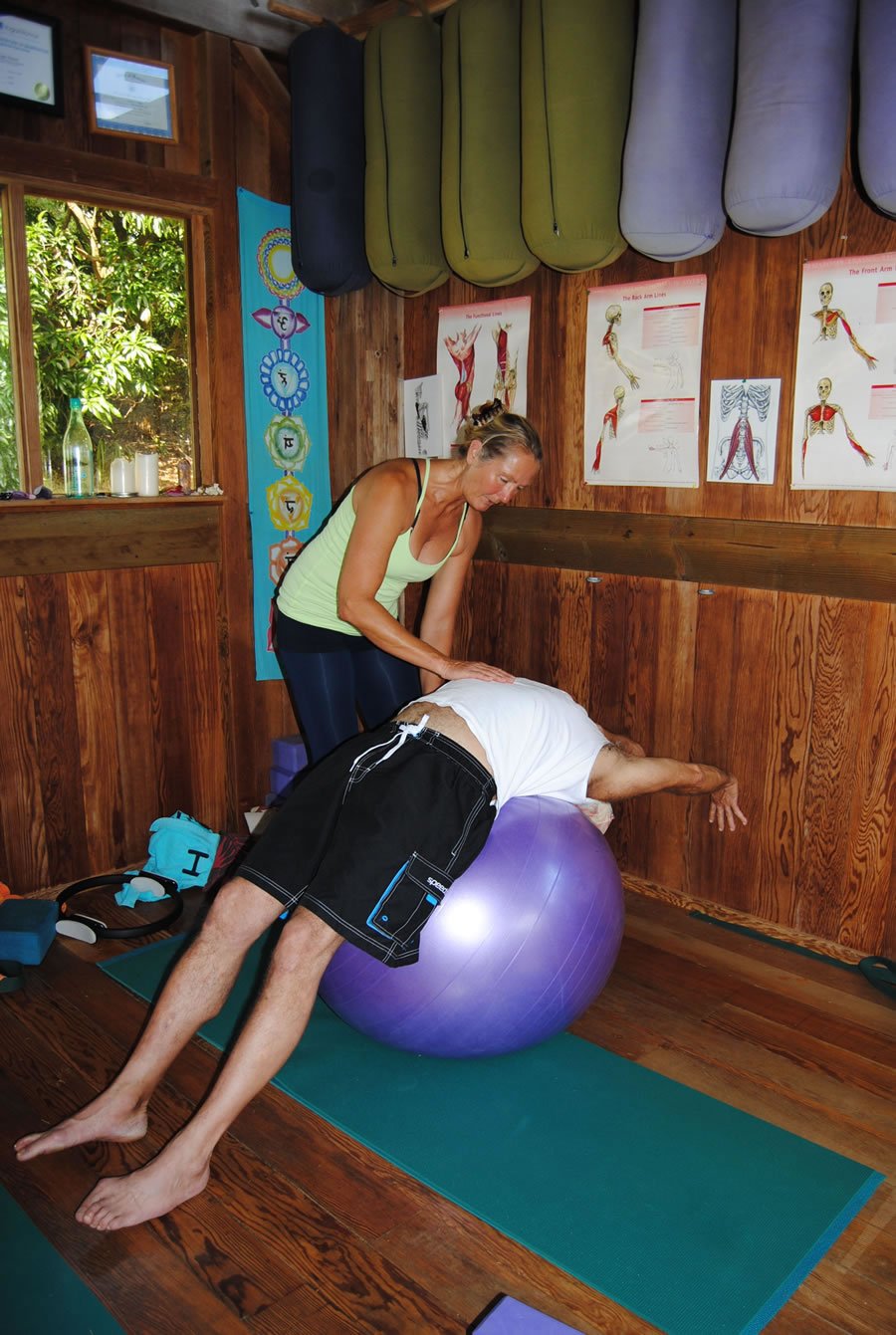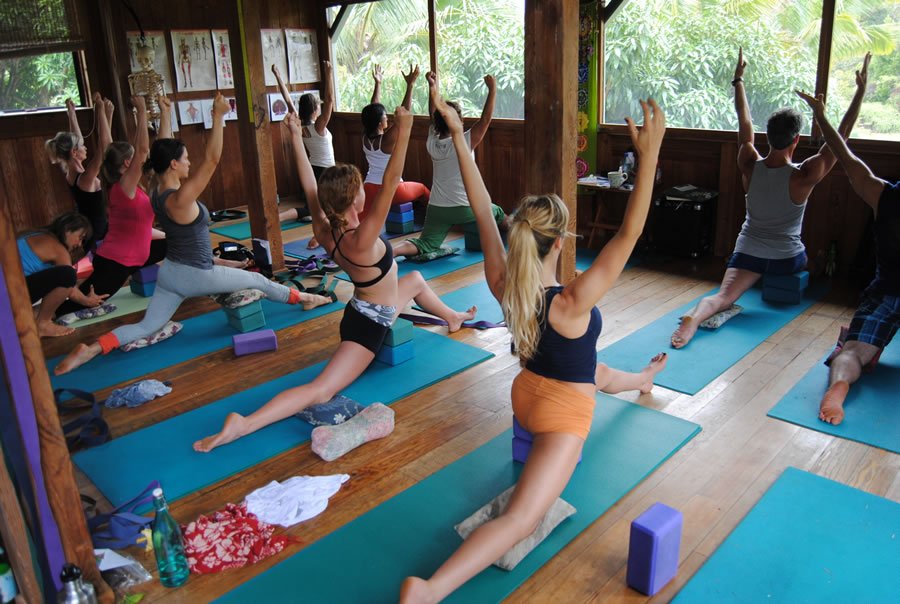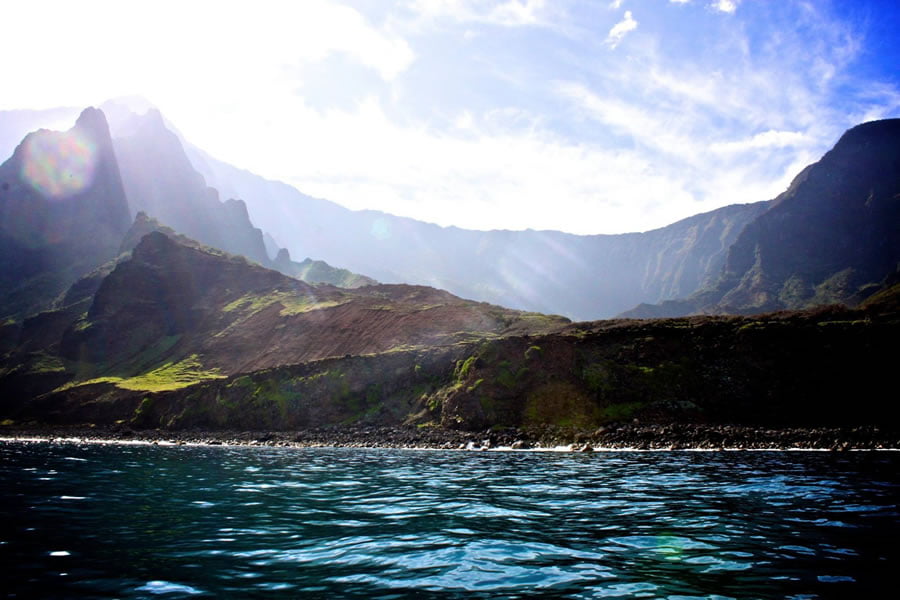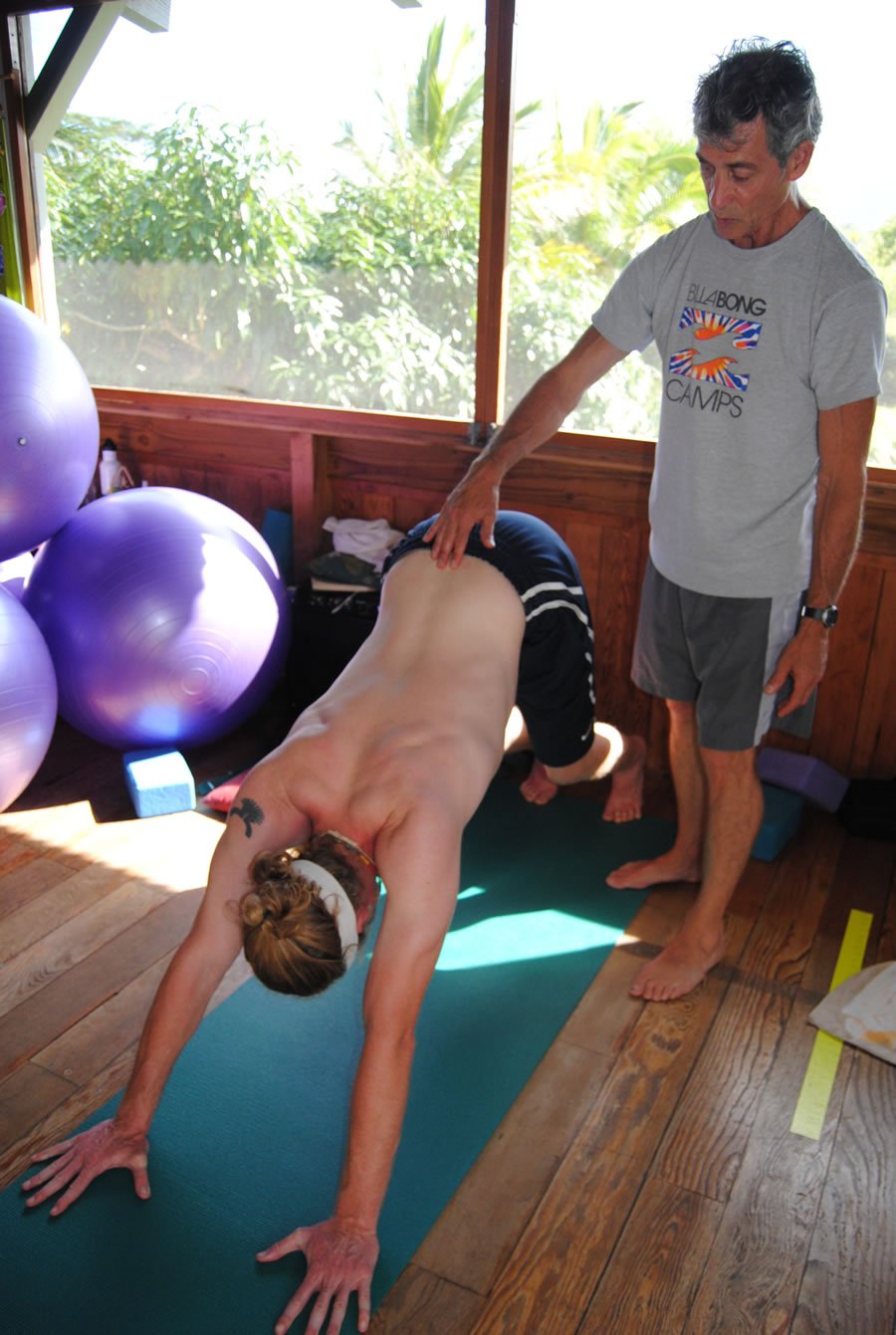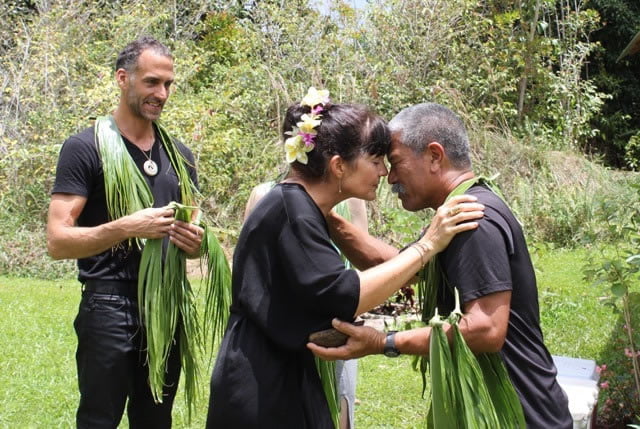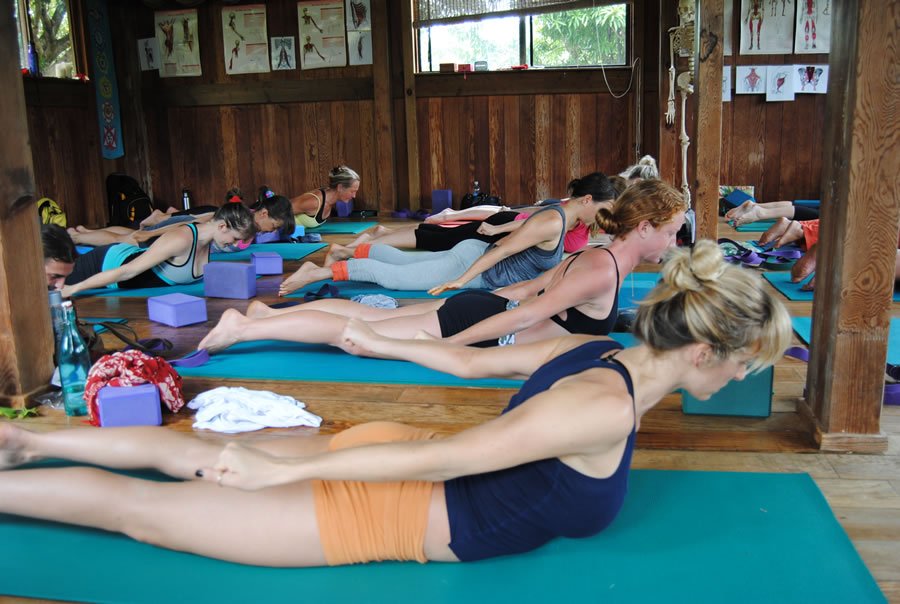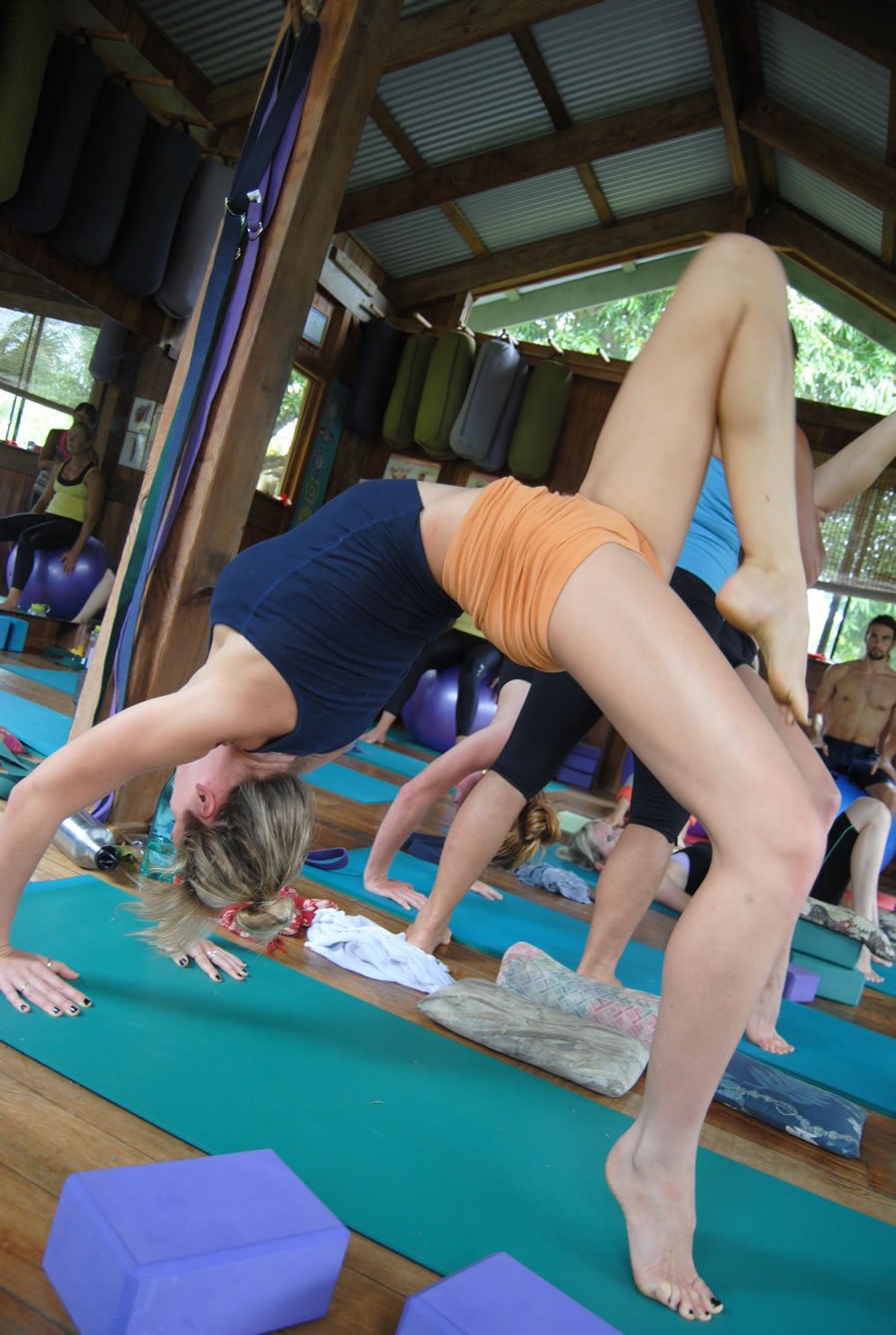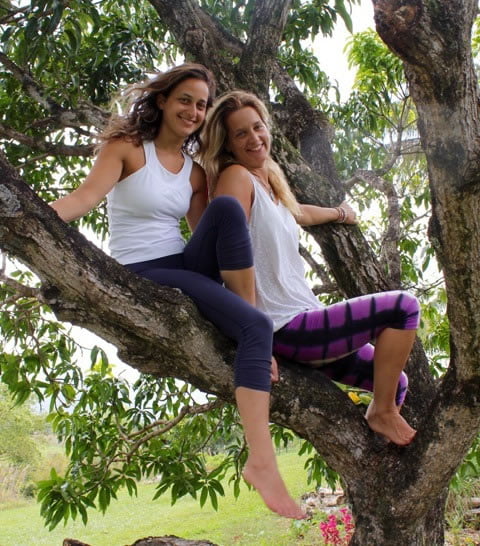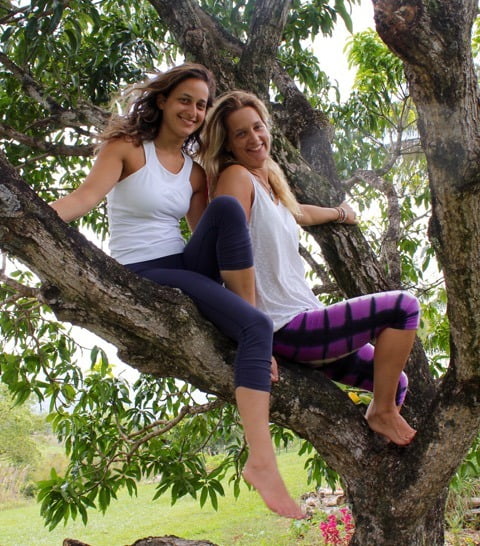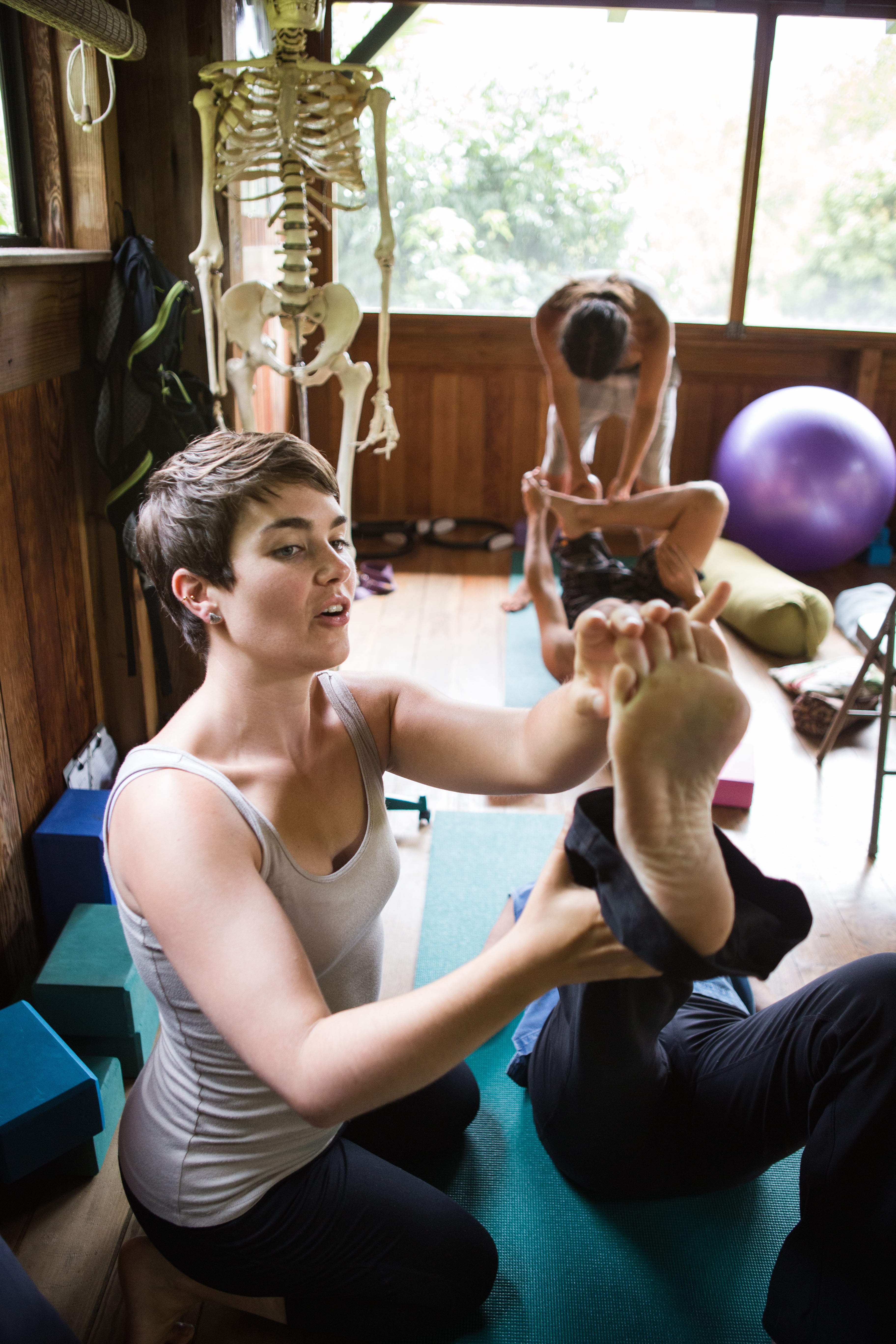 Listen to what graduates say
Kauai Yoga School offers a six-week/200-hour training and a ten-day/70-hour YogAlign certification.
YogAlign certification courses have a focus on optimizing postural alignment; a major determinant of mental and physical health and wellbeing.
Skills and topics covered in the trainings:
YogAlign core SIP breathing
70 different YogAlign techniques
Self massage to increase circulation, kinesthetic awareness and the release of ingrained tension
Structural alignment of the body, honoring the natural spinal curves, and keeping stable joint functions in any position, activity or movement
Global physiology and anatomy of the muscles, bones and fascia systems
Effective sequencing and contraindications for poses
Teaching practicum where students practice working one on one with each other and then a client for several sessions (The ability to lead a group yoga class will develop as one gains experience by first instructing people one on one)
Verbal corrections and safe adjustments that always honor the student's physical and emotional wellbeing
Use of the voice in teaching, mantra and singing
Core work via toning the abdominals and the spine stabilizers using the movements of breathing
Create fascia tensegrity – balance the forces of tension and compression that shape posture, movement and mood
Rewire posture and movement globally at the nervous system level for balanced movements and pain-free living
Release the 'issues in the tissues', deeply help traumas, tension and negative emotions
Gain agility and strength without stretching 'parts' of the body
Learn how to analyze any yoga pose or fitness exercise for safety and effectiveness
Use YogAlign techniques to streamline all movements of daily life and any sport or activity
Learn to teach people of any age and fitness level self-help tools to change their posture and change their life with YogAlign
Learn the business of teaching yoga
Study the Yoga Sutra and apply this ancient philosophy to real life
Experience Hawaiian spirituality and the meaning of Aloha
How is YogAlign training different?
YogAlign focuses on attaining natural alignment to eliminate chronic pain, injury, and premature aging in the human body. There is an emphasis on safety, stability and the usage of sound biomechanical principles, rather than contorting the body to achieve poses. YogAlign asana are globalized positions based on how our body is designed to move in real life function.
Your body can heal itself
Besides alleviating chronic pain and joint deterioration, posture alignment affects every system in the body. When we are aligned, our body's cells have the necessary nutrients, circulation, and waste removal to function optimally. Healthy cells in every part of our body are needed for the bio-intelligence to heal injuries, immune weakness, organ dysfunction, vertigo, anxiety, depression and chronic pain.

In YogAlign, we practice the greatest love of all; self-love
Once aligned, the more subtle realms of consciousness revered by ancient yogis are more accessible. Students transform from rose buds and gradually bloom into beautiful flowers without pain or force to the body. There is a profound love that permeates the training and the group becomes a family supporting each other to let go, receive, and do less. This course enables a strong acceleration of personal growth, heart opening, access to inner power, and a connection to nature.
Is YogAlign Teacher Training the Course for You?
YogAlign trainings are a perfect fit for those interested in the human body, massage therapy, biomechanics, movement education and of course the mindful practice of yoga. Nobody is required to perform any pose or body position if you deem it uncomfortable or unsuitable. This course is about alignment from core center, not getting 'good' at performing yoga poses.
Continuing education units are available for this course if you are already a certified yoga teacher.

Many people who already have previous 200 or 300-hour yoga certifications become YogAlign teachers. Some students who enroll in the course have had prior experience teaching but still found themselves with pain or yoga injuries that created confusion about how to continue teaching yoga safely and effectively. The YogAlign course enables students to gain an understanding and acquire the skills to practice and teach yoga asana from a global body perspective that facilitates alignment and healing.
This course has a strong emphasis on anatomy and physiology.
You will be studying anatomy of the muscles, bones and fascia both via the academic method and through experiential learning. Fascial anatomy is strongly emphasized as is developing proprioception skills using reciprocal inhibition and PNF (Proprioceptive Neuromuscular Facilitation) in rewiring tension at the nervous system level.
In the first part of the course, you will upload a new program of integrated posture 'software' into your physical, emotional and mental bodies.
As you activate your internal forces of lift and radiance through YogAlign breathing work, you start to eliminate the issues in the tissues resulting from previous physical or emotional traumas. Energy is freed when there is a letting go of ingrained tension accumulated from yoga poses, fitness exercises, chair sitting or habits like keeping the belly tight. YogAlign creates an inner sustainability where less effort is needed on all levels as a whole – in body, mind and spirit.
In the middle of the course you are given the opportunity to practice teaching each other as you continue with a daily class for self-practice.
The final part of training, in both the 200-hour and 10-day courses, includes a practicum in which you will have the opportunity to work one-on-one with clients.
You are going to have a lot of fun learning.
The training courses held on Kauai provide a unique opportunity to be in the beauty of nature while you become a teacher. Most 200-hour courses include a private group boat trip down the beautiful Na Pali coast as well as group swims, hiking, singing and visits to sacred sites.
Before and after photos are taken as a record of your transition. Your clients in the practicum will also be photographed before and after.
Graduation night dinner and YogAlign: Pain-Free Yoga From Your Inner Core Book and DVD are included in the cost.
Lodging, Meals and Transportation
Lodging, meals and transportation are not included in the tuition cost. If you require housing, Kauai Yoga School reserves 2 homes in Princeville which can be shared by students. Shared or private rooms are available for approximately $1200- $1400 for the entire six week period. Meals are not provided but many students who room together share cooking and food costs. These rentals are large spacious modern town homes with private bathrooms, pool and convenient location to the beaches by Princeville and Hanalei. Mana Yoga Center is located 5-10 minutes by car from Princeville. Rental car sharing allows easy transportation to class, shopping and the beach. Please email Michaelle at
yogalignkauai@gmail.com
if you want to share housing and transportation with other students
Kauai Yoga School curriculum follows the guidelines set up by Yoga Alliance and allows graduates to register with YA in the 200 or 300-hour category.
Payments and Cancellations Policies
A $500 deposit will secure your spot in the 6 week training however you must pay the tuition in full before the first day of the course.
Payments for tuition are fully refundable 30 days before starting date of the course. After 30 days, tuition is still refundable if another student registers for placement in the same course. In case of sickness or health issues during the course requiring one to leave, a student may enter the same course at a later date free of charge.
Extreme disruptive behavior during the course can result in dismissal and forfeiture of all funds and payments.

Current Course Offerings
6 Week Course
This 200-hour course is offered to anyone with an active lifestyle and in good mental and physical health. Experience in yoga asana is helpful but not necessary since YogAlign trainings are based on the rewiring of posture alignment rather than a school that requires students to perform and instruct 'traditional' yoga poses.
If you have a discerning, inquisitive mind and a passion and desire to be involved with helping people on a deep level, this course is for you.
Kauai Yoga School curriculum follows the guidelines set up by Yoga Alliance and allows graduates to register with YA in the 200 or 300-hour category.
A $500 deposit will secure your spot in this training however you must pay full tuition by February 1, 2017.

YogAlign Six-week/200-hour Yoga Alliance Registered Teacher Training
March 6- April 14th 2017
Tuition $4000
A $400 discount is offered if tuition is paid in full by Feb. 1, 2017
Course tuition is then $3600
To Confirm Registration, Please Make Payment Below
A Completed Student Information Form (See Below) is Required for any YogAlign Course
Ten-Day/75 hour YogAlign Certifications
This 75 hour course is for yoga teachers, body workers, health care practitioners, LACs, PTs, MDs, fitness, and movement educators seeking to learn the unique posture alignment techniques of YogAlign. This course is offered on Kauai and worldwide to give people the training necessary to teach YogAlign methods in their practice.
This course has 70 hours of contact and 5 hours which must be completed on your own. The 5 hours must be private YogAlign session hours conducted with a client or clients.
Pre-requisites for the course
Payment for the tuition includes a copy of YogAlign- Pain-free Yoga from Your Inner Core by Michaelle Edwards. Students must read chapters 1-8 before attending the course. Book will be mailed to participants upon receiving the tuition payment.
There are also recommended reading and workbook pages in the Trail Guide to the Body Book and Workbook by Andrew Biel.
$1850
$300 discount to $1550 if paid in full by September 1, 2016.
Kauai
Oct 17- 28, 2016
YogAlign 10 day certification
To Confirm Registration, Please Make Payment Below
A Completed Student Information Form (See Below) is Required for any YogAlign Course
YogAlign in Switzerland
YogAlign Certification
Move Atelier Yogastudio, Soorpark, 9606 Bütschwil (Toggenburg)
May 29-June 2, 2017
REGISTRATION AND PAYMENT COMING SOON
CONTACT:
bigna.zehntner@bluewin.ch
A Completed Student Information Form is Required for any YogAlign Course
Please fill out the form below and submit.
Kauai Yoga School RYS #32660
Established 2007